SNOHOMISH, WASHINGTON | March 2017
THEN: So young and confident in 1996. Confident enough to wear a string of red beads.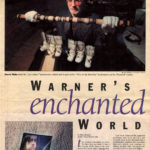 On the Boards, commissioned the third part of my experimental theater work Soup Talks Trilogy — a performance project that I wrote, built and presented in my Seattle studio beginning in 1989. Seven years later, all three parts were performed as part of the Henson International Festival of Puppet Theater in NYC — with an expanded capacity for guests from 12 to 40 in gallery seating around a large table.
NOW: Over 25 years later it's time for the performance objects created for this work and other projects to be released from storage and offered for adoption.
INDEX OF OBJECTS