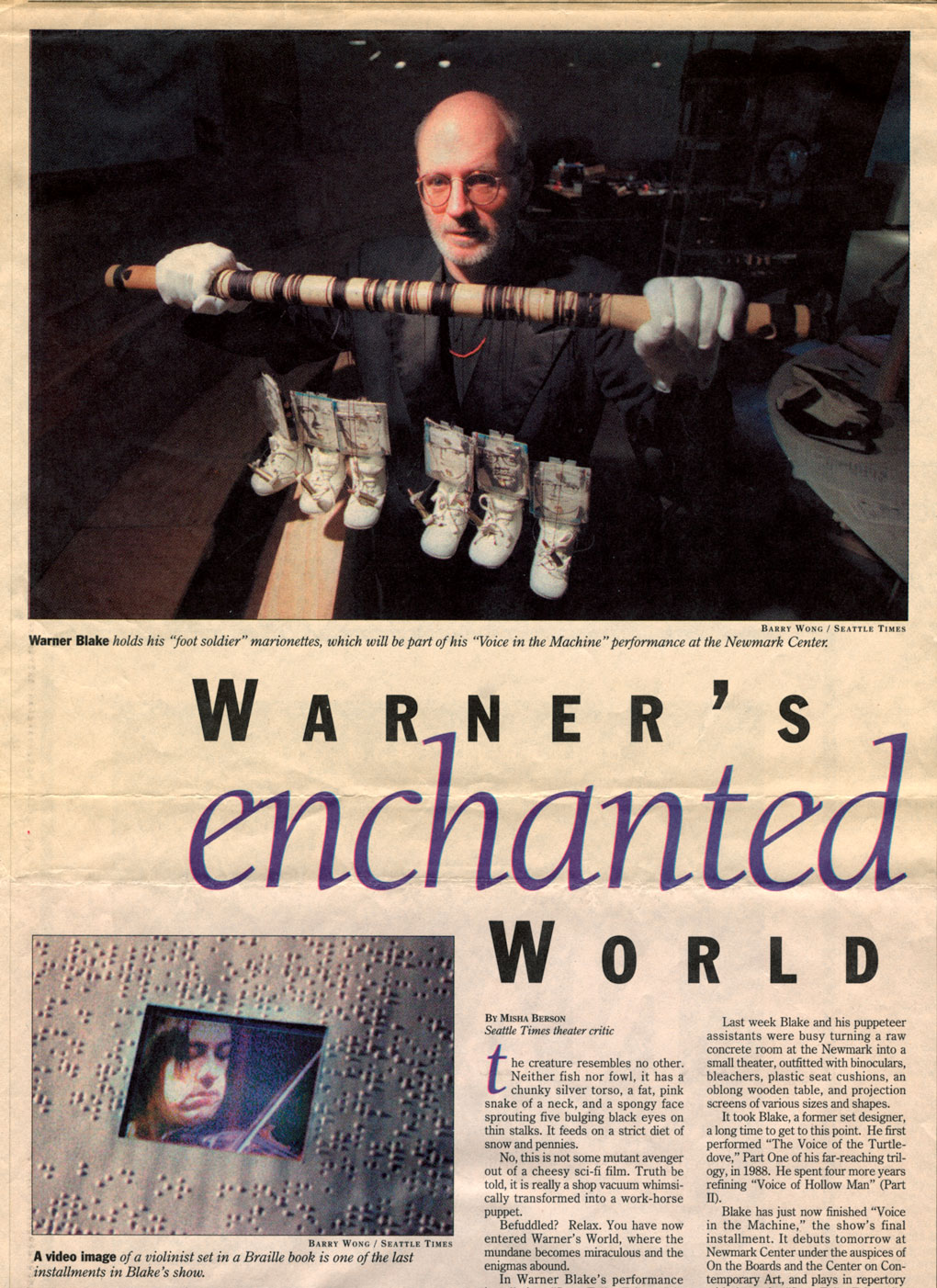 The Soup Talks is a performance project that I wrote, built, then presented in my Seattle studio beginning in 1989, for an audience of twelve or so guests.
In 1996 two of Seattle's contemporary art organizations, On the Boards and the Center on Contemporary Art (CoCA), jointly commissioned the third part of my experimental theater work, "Voice of the Machine" — completing the "Soup Talks Trilogy!"
Following early summer performances in a raw retail space, downtown Seattle, the trilogy was included in the Henson International Festival of Puppet Theater in New York City.
"Perhaps the festival's most intriguing title is Warner Blake's "Soup Talk I: Voice of the Turtledove" and Soup Talk II: Voice of the Hollow Man." Blake, who became a puppeteer after a career as a scenic designer, says the titles are variations on the SALT (Strategic Arms Limitation Treaty) talks. In reference to those international negotiations, Blake sets up a conference table that seats 12 spectators, while about 40 others watch from more conventional seats.

But Blake's real subject is not global politics. Rather, it's the creation of the world."

Alexis Greene, "Theater Week" October 14, 1996

"Before films, puppetry was the only theatre able to manipulate scale, and this remains of its fortes. Warner Blake's Soup Talk pushes the envelope of scale far out even for puppetry, visualizing its theme of human destructiveness through several lenses simultaneously.

Eileen Blumenthal, American Theatre, January 1997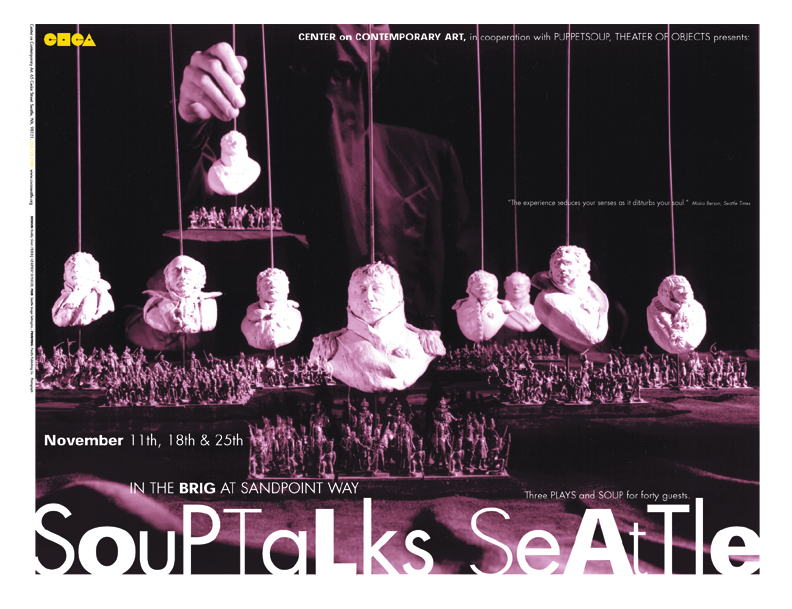 In 1999, I watched the WTO Meeting/Protest with my mother in Providence Mount St. Vincent, located in West Seattle. It was there, day after day, watching the relentless coverage, I thought to re-mount the trilogy with the new title, "Soup Talks Seattle" — all three plays in one evening with a soup supper intermission! The original idea so many years ago, influenced by the love of the Bread and Puppet Theater.
Our mother died in February 2000. Soup Talks Seattle gave four-weekend performances during November; in the former brig of Seattle's Sand Point Naval Base. Complete with the installation of 40 places around the large table and soup.
Happy to report we were awarded a grant from the former King County arts program, now called 4Culture, to videotape the performances, plus staged scenes, to document the event.
My sister Sara generously stepped up into sharing her extensive restaurant experience as the House Manager, and I included her in the movie version.
Only Part One: "Voice of the Turtledove" is available for viewing. The clip above is from the raw footage to my honor my sister's memory.
. . .